Spring Yachting Selection
The pre-season is in many ways a magical time to sail because, after a colder winter period, the first 'stronger' rays of the sun and the first swim from the yacht always have a special charm.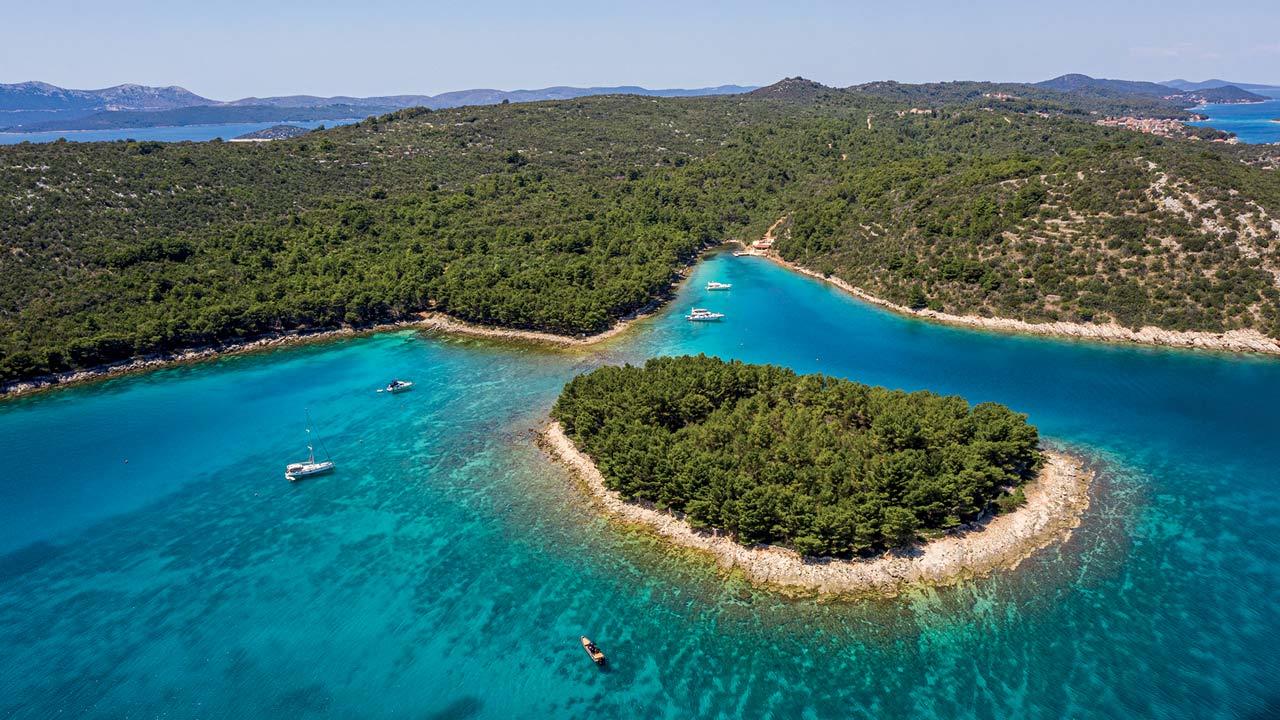 (Start) Cruising in Pre-Season
In Croatia, the pre-season actually starts in April, but May, and especially June, are really considered pre-season months when a significant number of yachts can be seen at sea. On the Croatian islands, 'charter life' starts to wake up with Easter holidays, when most of the restaurants open their doors, and all marinas, including seasonal ones, are ready to 'host' yachts again – with all their services available to guests.
In the spring, the days are long, and it is nice to spend these precious daily hours, sailing or sunbathing on the deck of the yacht in some of the splendid Adriatic bays. In cozy coves, you can feel the true vibration of nature because there are not too many boats around and everyone can enjoy their own privacy zone. During these days, with the sunset you have the privilege to sail into the marina and find a free berth – which in the heart of the season is equal to the main prize of the lottery.
This part of the year is ideal for guests who want to feel the local vibe of the Adriatic islands, often explore the islands, and visit and truly experience the beauties of the most popular spots – which is extremely difficult at the peak of summer, because of numerous boats around. To be true, many yachting enthusiasts start sailing during late spring and often come back during summer too.
In spring, if that is of some importance, yacht rental prices are lower, as are the prices of berths in the marina, entrance tickets to national parks, etc. You should keep in mind that during this period the sea is refreshing (up to 23 C) and the weather, although pleasant and sunny, can be changeable. The nightlife on the islands almost doesn't exist and as a result, in this part of the summer, Adriatic is not 'occupied' with numerous party flotillas. We recommend sailing in the pre-season to all those who want to feel the amazing awakening of the spring on a yacht!
Three Cabin Yacht Suggestion
From our fleet, we have selected the yachts which suit everyone's taste. At first, there is a selection of three cabin yachts, one flybridge, and one sporty open which will take you to hidden bays and popular towns with ease and privacy of the yacht, that is simply managed by the Captain and the Stewardess. Both yachts offer 10% discount in May and June.
Spice of life II
Mighty Princess awaits your majesty for the perfect charter vacation in Croatia. The 20 meter yacht features three cabins and contemporary styled interiors naturally opening to her comfortable exterior spaces and sporty look. She features excellent performances with a maximum speed of up to 45 knots, enabling you to spend a dynamic and eventful vacation. Cool features like opening the main salon roof will reward you with a million-dollar view of the stars during charming summer nights. The central space for enjoying the moments millimeters from the sea is a hydraulically operated stern platform, which can be interpreted as a private beach. But the variety of toys turn that space into the real playground with the selection of water- toys like jet-ski and donuts, or simply the mask and the flippers enabling you to dive into the turquoise Adriatic lagoons.
Four Cabin Yacht Suggestion
Climbing a step higher in comfort and service, we offer a wide selection of four cabin yachts, and the choice of the right one is made by your taste for interior decoration, crew skills, etc. Here we propose three yachts, the smallest one, the classic, and one of the biggest four-cabin yachts on the market. While 20-meter yacht Hope will easily sleep eight guests for the very attractive pricing, Princess 85 Insieme offers everything you might want from a four-cabin yacht including stabilizers, and mighty Sunseeker Baby I will offer two master cabins and the comfort of the real superyacht. All three yachts offer a 10% discount for May and June bookings.
Hope I
In only 20 meters Hope features four cabins, in incredibly spacious interiors. She also features a large flybridge, making you enjoy onboard like on the bigger size yachts. With a cruising speed of 24 knots, she will reach Croatian ports with ease while impeccable maintenance of this yacht sets her to one of the best flybridge yachts for charter in Croatia.
Insieme
Princess 85 Fly is one of the largest yachts of her size, being built with impeccable quality by famous British Princess Yachts shipyard in 2009. She is going under significant refit during winter 2021/2022, and features large volumes, both in exterior and interior, enabling you to enjoy in the sun, al fresco dining, flybridge jacuzzi or in comfortable interiors. Her eternal decoration style is matched by rich selection of water toys, making her the perfect yacht for unforgettable cruising.
Baby I
Baby I is the 31 meter Sunseeker 105 Yacht that seduces with attractiveness and elegance, she was fully refitted in 2018. The interiors are spacious, styled in white leather and high-gloss cherry wood and 8 guests can sleep in her elegant 4 cabins. Her exteriors will sweep you off your feet: the bathing platform, teak deck with a Jacuzzi and a stunning fly bridge with ample seating, sun loungers and a whirlpool. She carries 5 crew onboard to ensure you have a relaxed luxury yacht experience.
Five Cabin Yacht Suggestion
Entering the arena of the five cabin yachts, you are approaching luxury yacht charter standard in which you will not lack a thing for your dream cruise. Often with six crew these yachts offer unparalleled comfort in five cabins, many water toys and chase tenders which are extension of your comfort once you leave the yacht. Both yachts offer 10% discount in May.
Cassiopeia
Designed and built by Sunseeker, Cassiopeia was lightly refitted before summer 2021. She waits for you with strong crew of five that spent last three years together, earning only the superlatives from their guests. With 5 staterooms consisting of one master, two VIP's and two twins she accommodates up to 10 guests comfortably. The hub of the yacht on the sundeck has everything for charter guests including a bar, Jacuzzi with large sunbathing pads, and a dining area under shade. Two Jet Ski Sea-Doos and Flite board are available along with inflatable kayaks, two with windsurfing ability and a fly board among other toys, fun on the water guaranteed for guests of all ages.
Seventh Sense
This magnificent yacht built by Italian Ferretti group is an example of the yacht for enjoying Adriatic coast. Huge volumes and five cabins simply make her ideal for gentleman's cruise and offer highest level of service on board due to the crew of six.