Natural Wonders & Unesco Heritage
There are many ways to explore Croatia's best cultural & natural wonders, and yachting is one of the most luxurious and comfortable ways.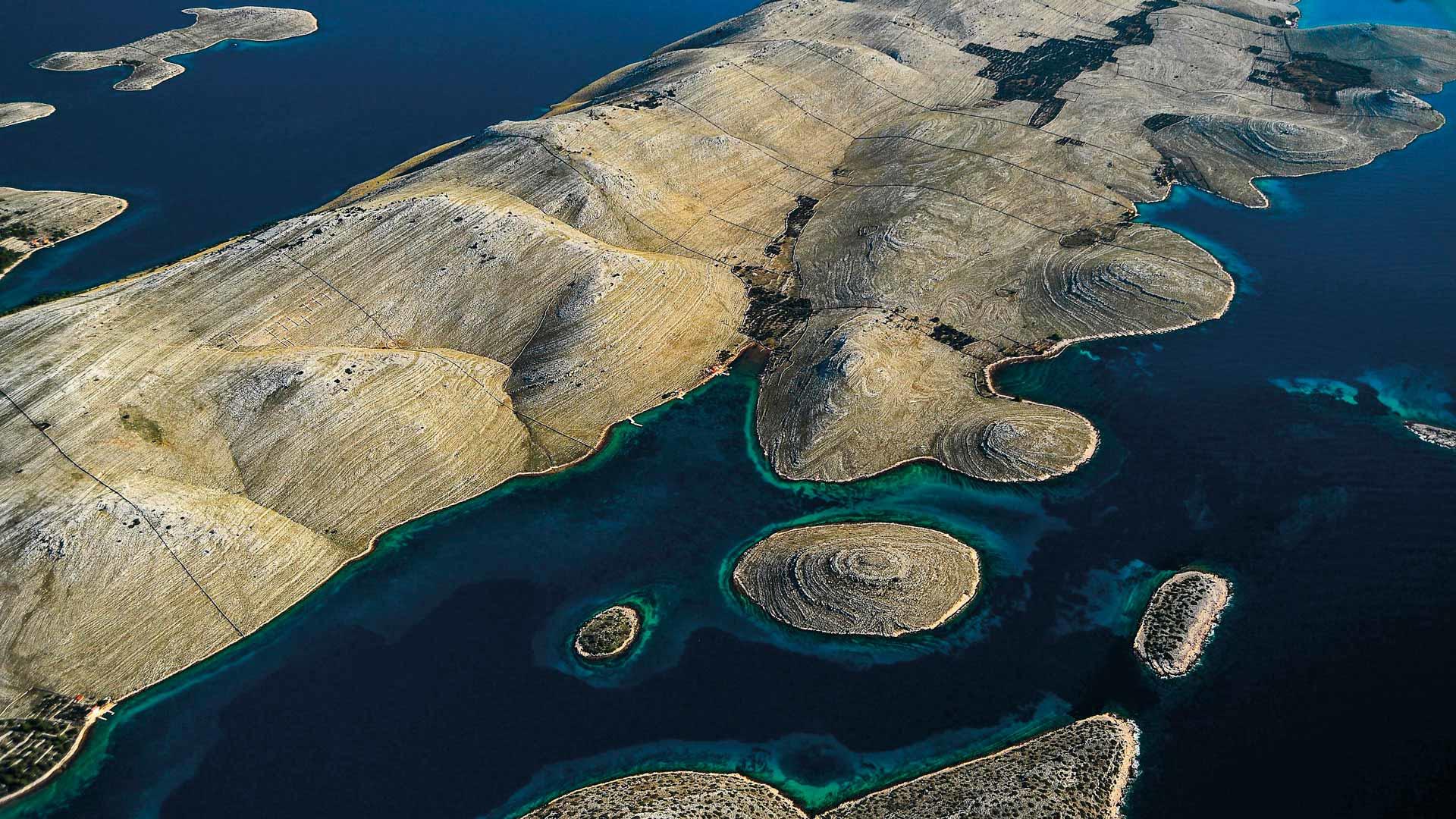 Croatia has many national parks, more than 1,000 islands and islets, 10 UNESCO World Heritage Sites, both cultural and natural, and 5 UNESCO's potentially suitable World heritage to become in near future. Come and join us on the 7 day exploration of Wonders tour of North Adriatic coast while cruising on the yacht!
Bespoke Charter Tour from Split to Island Pag
Split (1st Day)
Yacht will be anchored in port marina in Split, and once you board in and settled, we will organize must see tour of the 2 UNESCO's World Cultural Heritage cities by private van: SPLIT– famous for its monumental Diocletian's Palace with 4th-century basements, Peristyle's main square, ancient Roman temples and the Golden Gate.
TROGIR – old city center of Trogir has the specificity in the sculptural art of stone and walking along the streets of Trogir is like a trip to the past. On our return to home port marina, we will stop in local winery in Kastela, near Split that pride themselves by growing only indigenous, to the world known famous and powerful offspring of Zinfandel. An interesting story to hear and wines to taste. Dinner on board.
Skradin and NP Krka (2nd Day)
We start our morning cruise to SKRADIN, one of the oldest places on the Croatian north side of the Adriatic, an excellent base to explore the National Park Krka. NP Krka, 7th national park in Croatia is known for its numerous lakes and waterfalls, diverse and picturesque flora and fauna varieties.
Whether you enjoy the rainbow colors that make up waterfalls, swim in the sweet and warm river or just visit this national park, you will experience a wealth of memories. In order to experience a true Dalmatian spirit, we will try local specialties in in the original taverns near the local market in Skradin town. Return on board and have delightful night under the stars in marina, or we can sail to town Šibenik and anchor in marina.
Šibenik (3rd Day)
There are not many cities in the world that has two monuments on UNESCO's list of cultural heritage sites as ŠIBENIK. Cathedral of St. Jakov (Saint James) is a masterpiece and a unique structure built entirely made out of stone, using completely one of the kind construction techniques, and its newly proclaimed Fortress of St. Nikola (Saint Nicholas).
It is a great example of military architecture and one of the most important in the Mediterranean, reachable only by boat. The night will be spent in a marina. In recent years, gastro scene has flourished and our recommendation is to taste excellent Michelin star restaurant in the old town.
NP Kornati (4th Day)
Early morning, while you are still a sleep, skipper starts in direction of NATIONAL PARK KORNATI, "nautical paradise" where we will do the following:
sail through the 89 unforgettable islands, islets and reefs in the Kornati NP
witness the exceptional natural beauty
see the great indented coastline
make a stop to swim and enjoy in one of the bays.
Lunch break can be done in a small protected bay on the island of Žut in the beautiful Kornati archipelago, in traditional restaurant with the best authentic Adriatic menu! Overnight in insular tranquility and breathtaking views from marina.
Island Pag (5th Day)
In the morning, after breakfast, we sail to completely different, rocky and rough island PAG. The cold mountain wind called bura and devastating sea made its Eastern side facing the land like the moon's surface. There is also its other face – the Western part of the island is lower, greener and more pitiful.
Pag is also one of the sunniest islands on the Adriatic and known by salt, lace, cheese and olives:
Salt – Solana Pag is the largest sea salt producer in Croatia
Lace – the skill of making lace, its beauty, design, uniqueness and perfection, has been recognized as "Intangible Heritage" by UNESCO
Cheese – Paski sir (cheese from Pag) celebrated this island in the world
Olives – island has natural reserved field of olives in place called Lun, and there are only 2 places in the world as this.
So many wonderful things to see!
Nin (6th Day)
Today, with a view of the playful Velebit peaks, we sail to town NIN – the oldest Croatian royal town, the cradle of the Croatian state. Nin holds the smallest cathedral in the world and the crowned church of St. Nicholas. Along the solanace, Nin holds another symbol – the healing mud and many beaches, hundreds of meters of sandy joy symbolizing the most beautiful – the Queen's Beach.
Nin has a rich cultural treasury and preserved nature and an extraordinary beautiful environment. On our way to marina in Zadar, we will find one out of many bays, beaches, coves where you will have private paradise with complete peace and privacy, good food and sunbathing. Overnight in Zadar.
Zadar (7th Day)
Breakfast on board, and we are heading to explore ZADAR. No city in the world has a sea organ (sound from organs is created under the influence of the sea and its waves) or so many historical differences in such a small space. After the tour, we will board in and start navigating through the hidden route of Zadar's aquarium.
To truly enjoy this area, we will cruise lightly, so you can meet small islands and coves, enjoy in the details and unbelievable smell and tastes from local taverns where we will have stop for lunch, leaving you a handful of impressive impressions that you will keep in for a long time. Return to our home port Split.
Split (8th Day)
Packing and disembarkation as this is the last day of our sailing WONDER tour of North Adriatic coast. Everybody takes home stunning experience and memories from a unique yachting tour of the natural Wonders and UNESCO heritage sites of North Adriatic coast.