Explore Split, the Craziest City in the Whole World
The city of Split has in the past few years from the transit city where guests have only been passing through until catching a ferry to the middle Dalmatian islands developed into hit destination with tourist traffic growing at annual rate of more than ten percent. Finding a room or free table at a restaurant as of June through September has become a headache.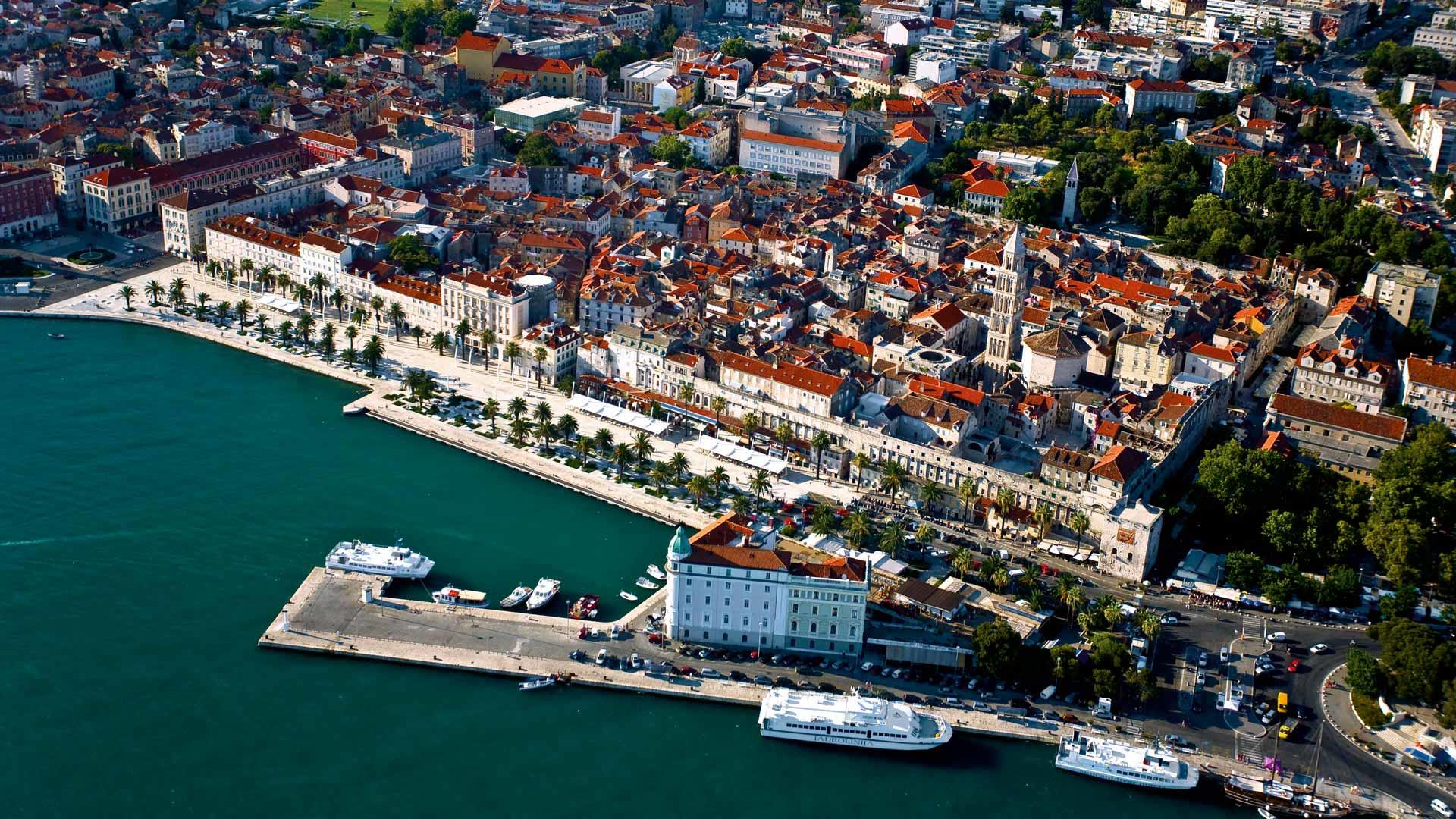 The Heart of the Mediterranean Spirit
The city of Split itself is meritorious for tourism renaissance with its unique history and architecture, streets and squares throbbing with Mediterranean spirit, but also its peculiar dwellers deserving praise for adorning the city with status of special, different or as often heard – 'the craziest in the whole world'.
City of Historical Transformation and Enduring Legacy
Such distinguishing landmark has been embedded by the first soul of Split, the Roman Emperor Diocletian who built a luxurious 30 thousand square meters villa on the east coast of Adriatic in AD 293 where he, back than seemed impossible, but voluntarily retired from the throne.
When authorities summoned Diocletian to reclaim the throne during the crises in AD 308, he replied they would have never disturbed him with such offers if only they had known what lovely vegetables he grew in the backyard of his palace.
The following turbulent centuries turned the Diocletian′s villa into a city being at first shelter for its first inhabitants refugees from the nearby Salona fleeing before the Avars and Slavs, afterwards different governments interchanged starting from Croatian kings in the 10th century over Hungarian and Venetian authorities to French rulers and Austro-Hungarian Monarchy.
Medieval construction work inside the Palace simultaneously devastated it and in a bizarre way preserved it, meaning if it had not been populated, it would have been destined to destruction as most Roman cities along Dalmatian cost had been.
Local Living Experience
Life kept on buzzing inside the walls of the city up to now and the Palace was one of the first urban complexes inscribed under the UNESCO World Heritage List and exactly this fact has made Split and extremely interesting and attractive spot for tourists longing for 'local living experience'.
During the summer season all over the alleys and squares numerous taverns, restaurants and bars are opened, Palace narrow streets are buzzing with swarms of curious tourist slowly streaming, rickshaws and golf carts packed with guests and luggage are rushing up and down.
It seems this buzzing spirit has magnetic impact on foreigners which is no wonder; it is a royal feeling having a cup of coffee at authentic Roman Imperial Square, strolling down the fascinating Diocletian′s basements or having lunch in a restaurant adorned with antique poles all interwoven in interaction with local people.
The Gastronomic Art
Split, as well as the rest of Dalmatia, is proud of its delicious food. Famous Anthony Bourdain has discovered the magic of Dalmatian food on his expedition along our coastline. Numerous Split visitors share his experience and place Split gastro experience high up on the list of reasons Split is worth visiting. There are numerous taverns serving our local, simply prepared Mediterranean food with emphasis on home grown, fresh and organic. Piquant volak (shellfish), scampi a la buzara, shrimps with asparagus and pasta or pasta fagioli a la brodetto are only some of (though affordable!) dishes thrilling the locals as well as guests.
Multicultural Environment
In summer Split is humming with all the world languages, alleys and bars are overcrowded with young party people, cruiser guests and rich yachtsmen intermixing with easygoing lifestyle of the locals. This diversity and blending of energies present the magical charm of Split. Split night life inside the Palace walls lasts shortly after midnight and those looking for more fun can find it in bars on Bačvice opened till small hours. Bačvice are the symbol of Split, the most popular city beach famous for its fine sand and picigin, a unique game with a small ball invented in Split.
Split is a safe city; safe and sound one can stroll down the streets and beaches. It is a perfect place for walking tours with its lungomare (waterfront promenade). Starting from the cape of Marjan, i.e. Institute of Oceanography and Fisheries on the west one can promenade along the sea across the city centre and Riva all the way to the east city borderline across Bačvice, Ovčice, Firule and Zenta, with the last point Trstenik and Duilovo.
Marjan, 178 m high hill at the west of Split peninsula offers jaw dropping view over the city and islands. This hill is a peaceful sports resort with small churches, hermits′ caves and jogging paths and beaches located at the foot of north and south slopes are one of the most beautiful ones. From Marjan across Veli Varoš one reaches Matejuška, a picturesque fishermen port even today cherishing the image of local fishermen patching up the fishing net and preparing to sail away, but also young Split people enjoying afternoon siesta tippling beer and gazing at the horizon.
Easygoing Lifestyle
Specific easygoing Split lifestyle has become a city brand and has even been described as such in travel guides. Foreign guests are astonished by the locals dressed according to the latest fashion, yet sipping coffee and lounging the day away along Riva. A recent control at city government has discovered that more than 40 percent of employees were not at work during the working hours which might be the answer to Riva crowdedness in the middle of the day.
The story of Split definitely includes its athletes. Split does not stand only for 'the craziest', but also for 'the most sport oriented' city in the world. Split athletes have won so far more than 100 Olympic medals, though in the city of less than 200.000 inhabitants across 80 km2, this fact denotes unique success. Split is proud of three times European basketball champions, world′s best tennis players, skippers, rowers, swimmers and handball players.
Nevertheless, the first place in these people′s hearts takes Hajduk, football club founded in 1911 with the first organised fan group in Europe in 1953 – Torcida. Split lives and dies for Hajduk, even though for the past decade the club has not been so successful. For its 100 years anniversary more than 100.000 fans gathered and with thousands of signal flares, torches and flaming sticks, even viewed on space satellite images, celebrated its birthday.
Top Five Things To Do in Split, Croatia
Split owes its contemporary charm to the long rich history which built along some city parts symbolizing today trademark of Split tourism. Apart from Diocletian Palace, a few city complexes are representing the main part of Split DNA.
Riva
Riva Seventeen centuries luxurious imperial villa turned into a city with Riva as the living room of Split dwellers. Heaven for pedestrians, morning coffee spot releasing extraordinary view at sea and ships, one of the most attractive city parts, Riva has always been suitable for gastronomy offer.
In 1786 'Bottega da Caffe e da scalitera', cafe and pastry shop was located there, followed by cafe Valenti, cafe Delić… Riva also hosted the first Split Hotel 'Mir' welcoming first guests in 1835 and also witnessed music academies, masquerades, folk games, comedies, operas that took place in a wooden theatre with 45 loggias in lazaretto′s yard built-in 1825.
This seafront area also served many times as a grand open-air stage with firework and music for notables, bishops, dukes as guests. Riva also bears witness to Christmas and Easter Feast Days, processions, especially Sudamja celebrating St.Duje, the protector of the city. This city sea-edge promenade experienced glorious welcoming parties for Hajduk football players, Split basketball players, swimmer Đurđica Bjedov and a famous tennis player Goran Ivanišević.
Bačvice
Bačvice Beach Resort Split area Bačvice, also a sandy beach branding the city worldwide is located in a natural bay. This beach used to look completely different in the 19th century – vineyards and field paths in the background of a natural beach. The beach was used for washing the barrels and horses coming there for refreshment after hard work in the field. It was the suburb of the city.
Ivan Košćina established today′s beach in 1891 and built the first wooden piers thrust into the sand with terraced cabins. In 1901 under the influence of the Bishop the government authorities limited swimming hours in defence of common moral values. Authorities determined separated swimming scheduled hours for men and women and the beach was divided by fence in two parts supervised by an appointed guard.
In 1905 the beach was renovated and one swimming hour cost four nickels, rather expensive for that time, therefore intended primarily for the privileged social status population. Workers were still there washing the barrels and horses despite commoners. The magic touch of Bačvice and Split is definitely picigin – a game with a small ball, unique worldwide. This game cherishes a lineage of ten decades and people play it all year round in the shallow waters of Bačvice.
Matejuška
Matejuška, a natural cove symbolizes memories of long Split history. Skilful Matejuška fishermen were first mentioned in 1507 and are still around. 1675 Z. Calergi′s Split layout outlined floating piers intended for a large number of gajetas (traditional Dalmatian fishing sailboat). Houses of Varoš workers and fishermen garnished with capers sit on rocks; some of them used to rest on strong cliffs washed by the sea and today leave the impression of emerging out of rocks.
Matejuška used to stretch all the way to fishermen′s alley, today known as Tomića stine Street leading to a small port which was aimed at protecting smaller boats inside the city harbour, but also served as a public laundry washing area – Piškera. Women of Varoš used to do laundry there which would whiten due to existing sulphur. Swimming area Banjo Polo with wooden cabins on stilts was available for the citizens in the period of 1875 through 1927 and visited even after the breakwater was built where many city channels effused.
In the same year, 1875 Ante Košćina built a small shipyard at the foot of church St.Peter of Solurat, which was closed down in 1927 owing to the construction of the coastline road towards Sustjepan. According to the design of architect Josip Kodl Dom Gusar (Gusar Centre) opened its door on 24 April 1927. Mini airport for the landing of seaplanes was built on the west side of the port.
Until the beginning of the Second World War, it provided flights two times a week from Czechoslovakia to the Adriatic. According to Marko Uvodić, a legendary couple Roko and Dujka called Cicela lived in the port, an unforgettable pair depicted in the works of Smoje. Nevertheless, the most significant hero Smoje wrote about, though the shortest and the most charming among Matejuška fishermen would be Šanto.
Fish Market
Split Fish Market Not experiencing the heartbeat of the city, the fish market, would be the same as having a cup of coffee without a croissant'. This structure is a monument standing there ever since 31 March 1890 initiated by the mayor Gajo Bulat and blessed by canon Dvornik. At that time 15.500 inhabitants populated the city and the beauty of the 19th-century architecture has withstood the historical challenges.
It is unique for being flies and insect-free since it was built next to the sulphur source, the City Spa. Ever since these times the same Mediterranean scenario has been going on, so peek through the iron gate made by craftsman Lovre Aržić and feel the atmosphere. Buying, companionship, shouting, fishermen arguing, and around one o′ clock water hoses wash the filthy seafood benches and stone pavements leaving silence behind that sleeps there till the next morning. The first rays of the sun wake up the city, fishermen arrive with a fresh display of fish.
Veli Varoš
Veli Varoš stands for the largest workers′ suburb, in the past called Podan Marjan, Varoš of the St.Cross and since the 19th century named Veli Varoš. It is located on the west side of the old Split at the foot of Marjan hill often performed in serenades.
In the past it was attributed as a rural settlement of rural architecture, houses were built of straw, though in 1657 the town government-regulated stone construction due to constant fires. The building method and construction of stone houses was a rare thing in the cities and was a specific urban feature of Split. The houses were tiny, modest, though functional in spacing and appearance. That original beauty of unequal stone blocks is still evident today.
The ground floor served as a shed where gardening, wine and olive making tools were kept with a section for a horse stable. Outside stairs garnished with flower pots led to the upstairs bedrooms, while the kitchen with open fireplace was located in the attic where fish and meat were smoked and dried. There was no water supply, so people carried water from the public wells or municipality fountains.
There are no squares in Veli Varoš, only 'wide areas', streets are narrow, curvy and steep especially on the east slopes of Marjan. Penića Street hosts one of these picturesque houses 'Vila Ridulin' being the musical theme of the legendary operetta Splitski akvarel written by Ivo Tijardović.